How to Research Your Amazon Book Description
Go to the Kindle store and click on the Kindle ebooks tab. Then choose your category on the left sidebar (such as Science Fiction and Fantasy). From there, choose a subgenre that's closest to your book. Let's go with Fantasy ~ Myths and Legends, for example. That cuts down the search results to 3,610.
If you don't have the KDSPY Chrome tool, this is a great time to use it. If you click on it first, then navigate using the link that comes up on the KDSPY screen, then follow the above process, you'll get this:
Now what? I'd ignore the books that are set at
How to Write Your Amazon Book Description
1. Start off your description copy with a blurb about one or two sentences long. Make this bold. Why? Because now Amazon sticks the annoying "read more" tag after just a couple of lines—meaning that almost your entire description is hidden! You need to have a super compelling first line to get the potential customer to click on that "read more" tag. It's disappointing, but that's how it is. Think: hook.
2. After your awesome book description, put in some top reviews of your book. If you don't have any yet, leave space to add them so you can use up that 4,000-character allotment. At some point people will review your book. One way to get started on this before you publish is to ask friends to read and be ready to post a review. You can tweet for #bookreviewers with your genre hashtag (#mystery #fantasy #romance) or post your need on your Facebook page. All you need is a handful of honest, good reviews up as soon as your book is published. Don't bribe (bad, bad), but do appropriately thank those willing to read and review for you.
3. You can also make a nice simple list of Amazon categories at the end of your description. This is another tasteful way to add in the keyword phrases that won't feel like spam.
Remember: You are selling a product to a consumer. That consumer may or may not be looking for a book exactly like yours. In fact, with riveting description (which, I hope, means you have a riveting book), you can draw in buyers who may not have considered a book like yours. Because of your awesome description, they are now intrigued, and might toy with the idea of buying your book.
That description is the first step in the purchase. But it's the most important. So take the time to write some terrific description copy. It's one of the best ways to optimize your book on Amazon.
C. S. Lakin is a writing coach, workshop instructor, and award-winning author of 30+ books and blogger at Live Write Thrive (where you can find more than one million words on novel craft). Her Writer's Toolbox series of books teach the craft of fiction, and her online video courses at Writing for Life Workshops have helped more than a thousand writers. She also works as a book copyeditor and does more than 200 critiques a year for writers, agents, and publishers in six continents (she's still waiting for someone in Antarctica to hire her …).
right now. Why? Because they're free books, and they may only be "selling" big right now because they're free. Rather, take a look at the top ten paid books. They are going to give you the best examples of description.
Open up each of those ten or twenty paid bestselling books in your niche genre (the subgenre or subcategory that more specifically fits your book).
Copy and paste their description into a blank document. Each one. Just put them all in there, one after another.
Read them all. Highlight similarities in the writing style, layout, what words are used, what keywords pop out, and what special formatting (bold, italics, etc.) are used.
Make some notes about the features that are recurring and popular.
Write a rough draft of your description copy using the same basic ideas as these bestselling books.
Get some feedback from critique partners, savvy readers, or a professional editor, and then polish your description.
Be sure to have someone proofread your copy if you aren't a stellar copyeditor. The last thing you want are mistakes in your description. Yes, readers will notice them (and of course, you want to have your book professionally edited before you put it up for sale. That should go without saying).
The Headline: Hook readers in
Amazon only displays the first few lines of your product description, meaning you have very limited space to capture a reader's attention enough to click on your book and find out more. That's the role of the headline: if a reader's attention isn't grabbed straight off the bat, then you've already lost them.
Having an effusive and descriptive pull quote for your first line is really effective, and you'll see the technique used time and again by bestsellers and newcomers alike. Whether your reviews are editorial or reader reviews from Amazon or Goodreads, add them into your description. Word-of-mouth recommendations are great conversion tools.
However, if you don't have any suitable reviews or sales stats to speak of (yet), make sure that your first sentence features a snappy, irresistible hook. The key to a good headline is to include keywords that people on the hunt for their next read will immediately recognize. This could be:
TIPS FOR FICTION…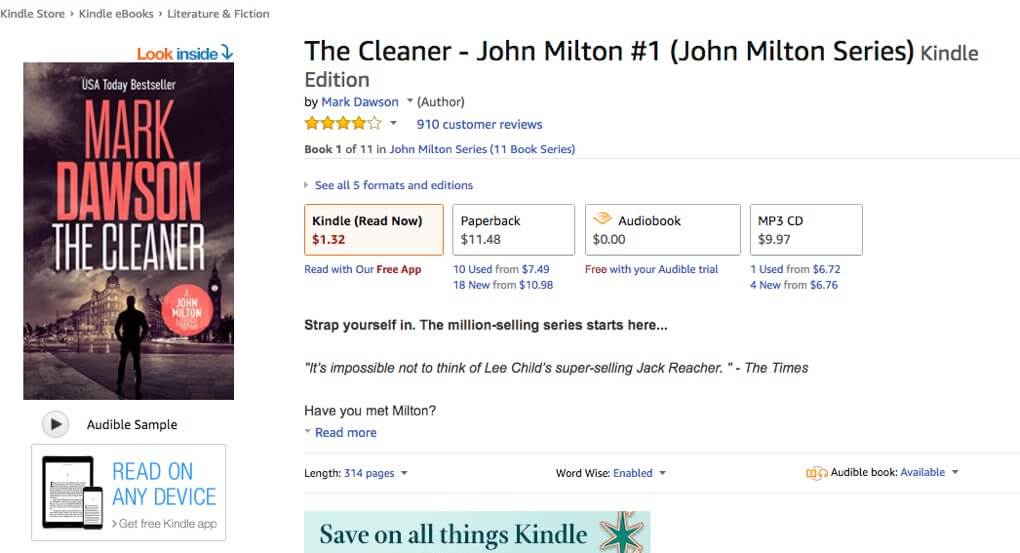 Not only is it a quote from an internationally-renowned newspaper, it highlights Mark Dawson's central marketing message: "If you like Jack Reacher, you'll also like my John Milton books." Just look at Mark's cover designs and you'll see that this Reacher connection is no coincidence.
You might be thinking that as a budding author, you don't have a ton of accolades to start with. No problem! You can still give readers something to latch on to: perhaps an evocative tagline or a punchy story hook. Your aim is to appeal to fans of your genre, so browse through the bestselling books in your category and see how they go about capturing a reader's attention. Here's our own made-up headline:
A young woman finds herself lost in the plains of Arizona with nothing but her horse and a vague idea of the fabled town she's searching for — this debut novel puts a fresh spin on the classic Western with a female heroine and a mystery that needs cracking.
TIPS FOR NON-FICTION
As with fiction book descriptions, your headline needs to entice people to hit "Read More" with a motivating line or two. If you don't have a review or pull quote to start your description with, try leading with one of these options:
Tell us who you are. Are you an expert in your field? Have you been published multiple times regarding the subject of your book? Do you have singular insight into a topic no one else does? Tell us right away. For non-fiction, your author bio will determine if we'll trust what you'll have to say. For instance, Tyler Cowen's description for Average Is Over starts with: "Widely acclaimed as one of the world's most influential economists, Tyler Cowen returns with his groundbreaking follow-up to the New York Times bestseller The Great Stagnation."
Make us a proposition. Paint us a fast picture of what we might get out of your book. You need to ask a question that will resonate with your target audience — something that they need an answer for.

This introduction sounds almost like it's describing fiction, which is all the more exciting when we learn that these are factual events. By framing it in this story-like way, it prompts us to ask "how?" and then to read more so we can answer our own question.
Tip for optimizing your headline for Amazon: "Don't think that a book description has to be a few block paragraphs. Mix it up with different styles," suggests Ameesha Green. You can give your headline a bit of visual aid by using some of these formatting tips on Amazon:

Want to get the author PERFECT bio and book description?
Sign up now
We use cookies on our website to give you the most relevant experience by remembering your preferences and repeat visits. By clicking "Accept", you consent to the use of ALL the cookies.
Privacy Overview
This website uses cookies to improve your experience while you navigate through the website. Out of these, the cookies that are categorized as necessary are stored on your browser as they are essential for the working of basic functionalities of the website. We also use third-party cookies that help us analyze and understand how you use this website. These cookies will be stored in your browser only with your consent. You also have the option to opt-out of these cookies. But opting out of some of these cookies may affect your browsing experience.
Source:
https://www.janefriedman.com/amazon-book-description-optimize/
https://blog.reedsy.com/book-description/
https://jerichowriters.com/write-amazon-book-descriptions-that-sell-examples-template/