The best way to follow up? Email.
Email is quick to send, you can easily track comments and feedback, and best of all, it's scalable. Whether you follow up with a select handful of clients, or have thousands of customers to contact, you can do it all by simply using good old fashioned email.
Before we provide you with the templates, I want to share a real life example of how not to follow up with a prospect or customer. Below is the email example and then I'll explain why you shouldn't try to replicate it.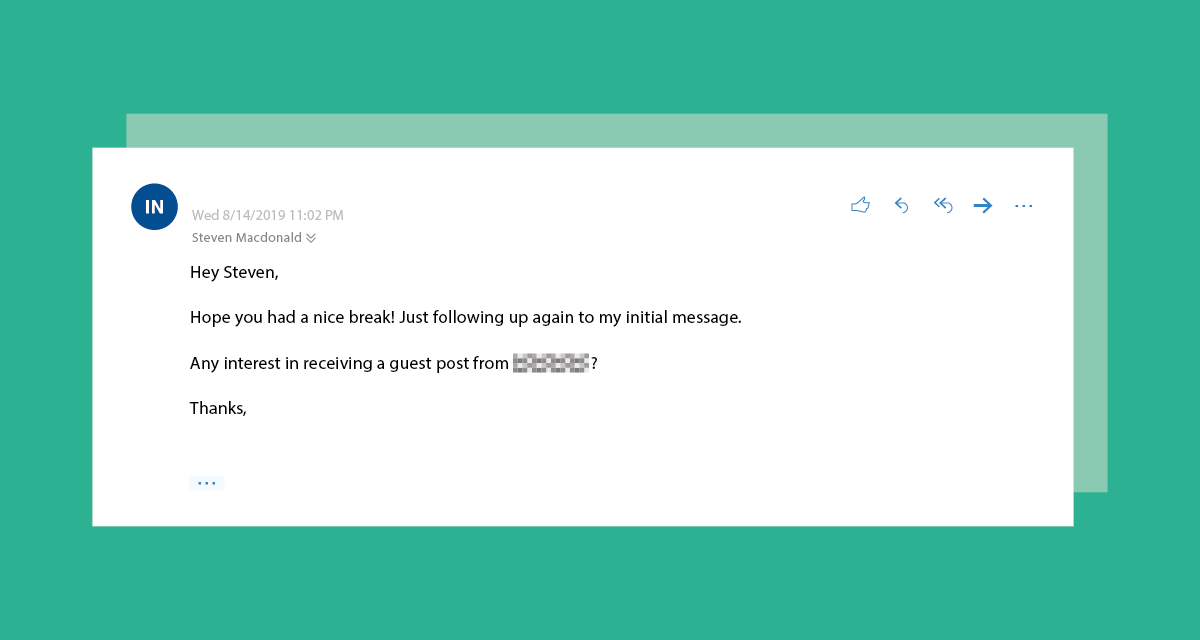 Either the email sequence was automated and it didn't recognize that I had replied or the person sending the email decided to ignore my response and try to change my mind in their second follow up.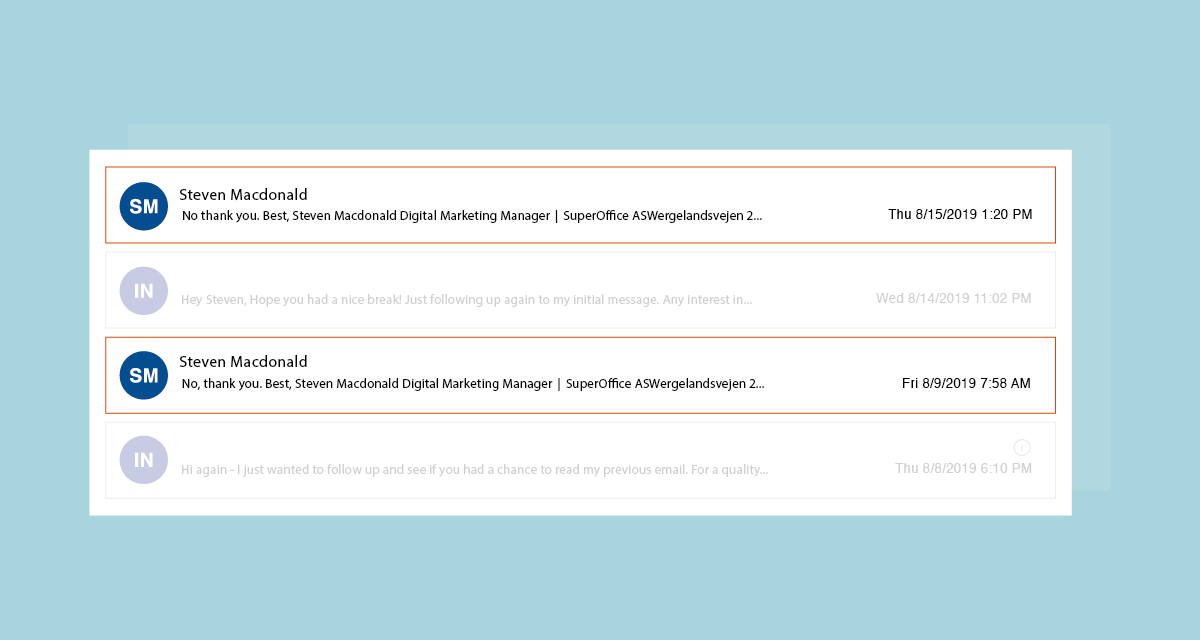 Avoid Following Up On Mondays
General rules of thumb start with a very basic reminder: Mondays are out. Many people are not functioning at their most pleasant on those days. (It's called a "Case of the Mondays" for a reason.)
Yes, your inbox will still be filled with email after email on that day, most likely filled with questions and tasks you are not too enthused to start the week off with. This is how everyone feels. So loading your colleague's inbox with another email will not only most likely be the tip of the iceberg for them, but there is a chance they won't even see it when you need them to.
Perhaps blocking out time on Monday to schedule reminder emails to go out on Tuesday or Wednesday is your best bet? (Tuesday is the most productive day of the week, after all.) This way, your tasks are top of mind at the top of the week, and you are still able to give people a little bit of breathing room before launching into your ask–no matter how many times you have asked previously.
Stay Away From Friday Follow-Ups
Fridays are also not ideal days to receive follow-up emails from people. Sure, time-sensitive matters are a little bit different. But who of us is going to disagree that we really want to do the bare minimum by the time Friday rolls around?
Email subject lines are everything. Just like the cover of a book, they give us a glimpse at what to expect from the email. If written correctly, they will pull at the curiosity of the email's receiver, and get them to click on it right away.
If you don't have time to come up with a clever one-liner for your subject line, feel free to write "Urgent" or "Please Reply at Your Earliest Convenience." Another method would be to use any naming conventions your colleagues prefer in emails of importance. (This would be a question to ask when you are getting to know your team.)
Follow Up Email Templates
It doesn't have to be complicated, but sometimes you can't make the time to write a perfect follow-up email every time. So it's a good idea to use a free email template design tool to create templates and have them ready when needed.
Follow Up Email After Requesting Info
P.S With Content Snare, you don't have to stress about writing emails like this because your client already knows what information they need to provide in the correct format so you get back exactly what you need. And if they forget, they get reminded automatically!
Follow Up Email After Asking for Feedback
This may be feedback on a design you prepared for them or just overall feedback on their experience with your services. Either way, politely ask for feedback to improve your services, whether that's directly for this client or for your clients in the future.
Thanks for working with us on your project. We'd love for you to review the documents and get your feedback. We want to make sure you have a positive experience and get everything you are looking for as we appreciate your business.
Follow Up Email After Sending Estimate
After sending an estimate, a decision will need to be made by your client which may take some time, consulting with others and/or approval. So just check in to make sure they have all the information to make their decision.
I was wondering if you've had a chance to look over the quote I sent you [date you sent the quote] for [project you're working on]? I would love to get started on [project or service you're providing] so you can [benefit they want].
Follow Up Email After Sending Invoice With No Payment
Follow Up Email After No Response to Previous Email
Automate your follow-ups
A professional email reminder goes a long way in keeping your project moving and should be a part of your overall follow-up strategy. To create a compelling and scalable follow-up email sequence, you may want to utilize software to automate your email reminders. Some of our favourite tools to do this are:
FollowUpThen – Remind yourself when someone has responded in a certain period of time, or remind them without anything special installed – it just uses an email address. Find out more about why this is one of our favourites here: https://jimmyrose.me/best-email-follow-up-reminder-tool/
Snooze feature built in Gmail – Simply locate the email you'd like to snooze, select a date and time and the email will reappear at the date and time you've specified. A great way to remind yourself that you need to follow up with your client.
And, of course, Content Snare – Choose a reminder schedule or create your own. Create as many emails as you like that can be populated automatically with project information so your client always sends you what you need.
Use the templates provided but always personalize your follow-ups to your clients, so it doesn't feel like a template and schedule those automatic reminders! This will ensure no follow-ups fall through the cracks and is done in a timely manner.
Follow-Up with Content Snare
Content Snare offers automatic reminders, so you don't have to hassle people to send info or get paid to keep your requests current. Hence, you get what you need, without spending all your time following up with your clients.
Resource:
https://www.superoffice.com/blog/follow-up-email/
https://hive.com/blog/follow-up-email/
https://contentsnare.com/client-follow-up-emails/